Latest News
: Our annual Charity run takes place on the the 14th of October please see
here
for all the details.

As a family who has lost a loved one we decided to try to live by our Fathers ideals, get more involved in charities and give something back, particularly to those that support children suffering from cancer and their families. Our father was particularly effected by their plight and his thoughts were more on them then on himself. The Greek name Nikolaos means the saviour and a love for children and he was a man true to his name.

The first charitable step we took was to donate his car to the
Songs of Love Foundation
a nonprofit organization providing original personalized songs to chronically and terminally ill children locally and across the country.

Our first fund raiser was sponsored participation in the Terry Fox Run. We paid only the registry fee to enter as we wanted to concentrate on raising funds directly for the Greek Children's Fund and a substantial amount was raised, details of the original fund raiser can be found here. Please visit the Terry Fox Run site as contributions can still be made. We will be making further contributions ourselves and all money goes directly to The Sloan Kettering Memorial Hospital to be spent on Cancer research.

Many thanks for the very generous amounts given to us by friends, family and many others and we hope to do much more work for this very worthy cause.

This is the first of many charity events which we will be taking part in and details of which we'll make available as they happen.

Please find some photo's below of the day and Thanks again for all of your help.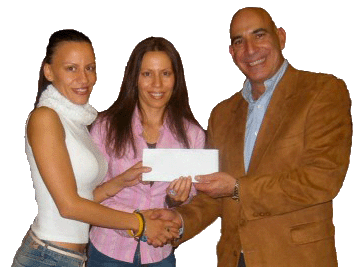 Members of the Stamatelatos Family handing over monies raised for the Greek Children's Fund to Chris Coroneos, President, of Greek Children's Fund.

Click here to see pictures of the event.